As a Durham florist, we provide several design services, but a passion of ours is to bring romance and love to your wedding day!
The ceremony is one of the most photographed areas of your wedding day. The camera follows you and your sweetie! And the ceremony space is a focal point and introduction to the personality of your wedding, so make it amazing!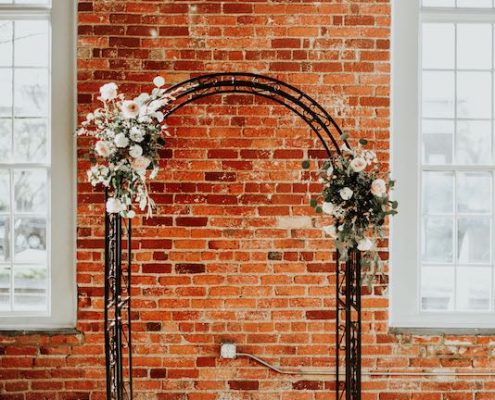 During the wedding ceremony, your photographer will be capturing all your emotions and reactions of awe and love – those images will you  back so that you recall what it was like to be in that moment. With the right decor, each one will be telling your story beautifully with your color theme and feel of your day.⁠
An arbor, a circle arch, pretty doors, you name it: the focal spot of this day is your ceremony backdrop. It's where the important stuff happens and is the reason all your loved ones are in attendance!
What is fitting for you can vary quite a bit. Are you a lover of whimsical? Classic symmetry? Asymmetrical romance? Do you like the feel of geometric shapes? Do you prefer an industrial feel? Rounded or square?
The options are endless and honestly that is the beauty of a consultation – we can discuss how each part of this can perfectly tell the story you desire for your wedding day! We would love to help you with this vision! Jump over to our contact page to get the consultation process started!